For us, nature is the actual producer of our wines and we grow our Rieslings where our ancestors did it generations ago. Thus our wines come from the historically important sites of Hochheim: Kirchenstück, Domdechaney and Hölle.
From Basel to the North Sea, the course of the river Rhine is northbound for nearly one thousand kilometres — with one exception: between Wiesbaden and Rüdesheim it detours west for about 30 km. Here the right bank of the river Rhine and its westbound tributary Main form the gently rising south-facing slopes of the Rheingau hillside. This site with its distinct climatic and geological conditions influences our cultivation area Rheingau, one of the smallest wine-growing regions in Germany.
Riesling is the most widely planted grape variety in the Rheingau (appr. 78% of the wine-growing area), followed by mainly Pinot Noir (appr. 13%). In total, the Rheingau's vineyard area covers appr. 3,200 ha.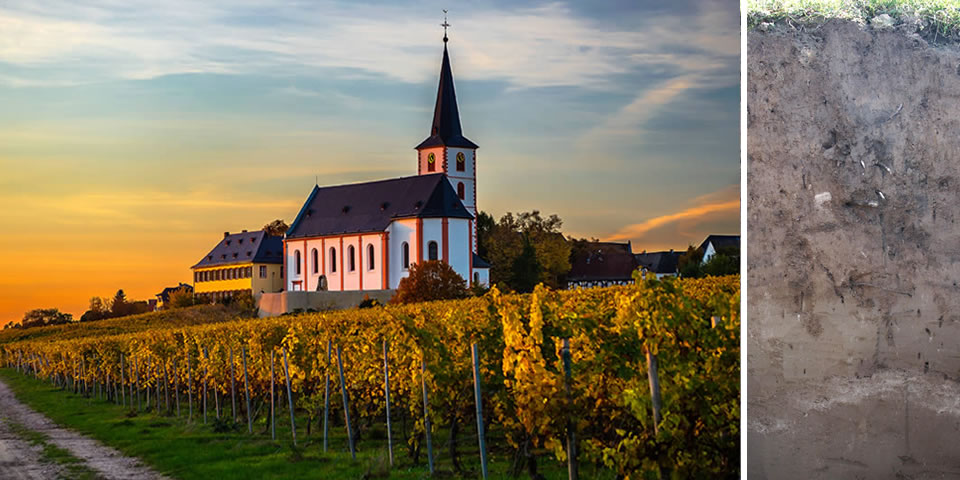 KIRCHENSTÜCK
sheltered from the wind, is situated at the south-facing mid-level slope, the prime location, in direct vicinity of the historical parish church. West winds blew periglacial sediments of fertile loess and loam onto the rich limestone subsoil, a reservoir for both water and heat, offering the vines ideal growth conditions. The Kirchenstück Riesling is always elegant and complex with a fine minerality, often playfully capricious and, therefore, is considered to be the charming Grande Dame of noble elegance.
Cultivation area: 2.6 ha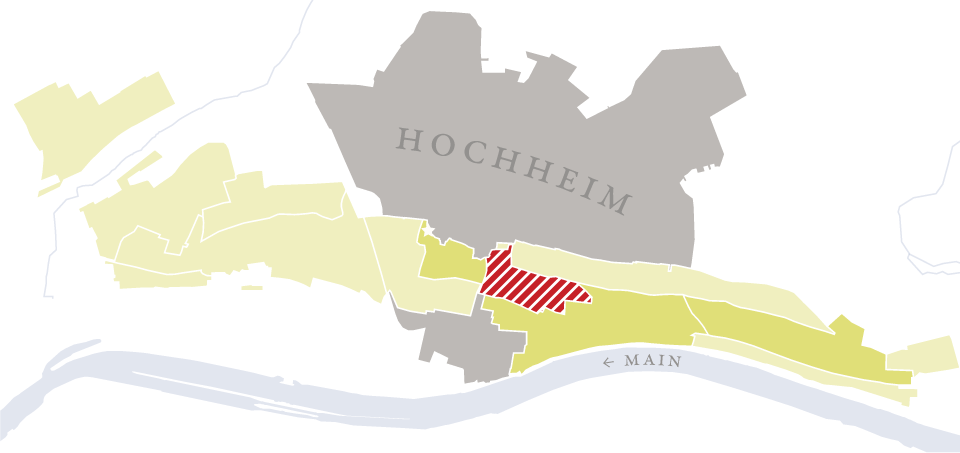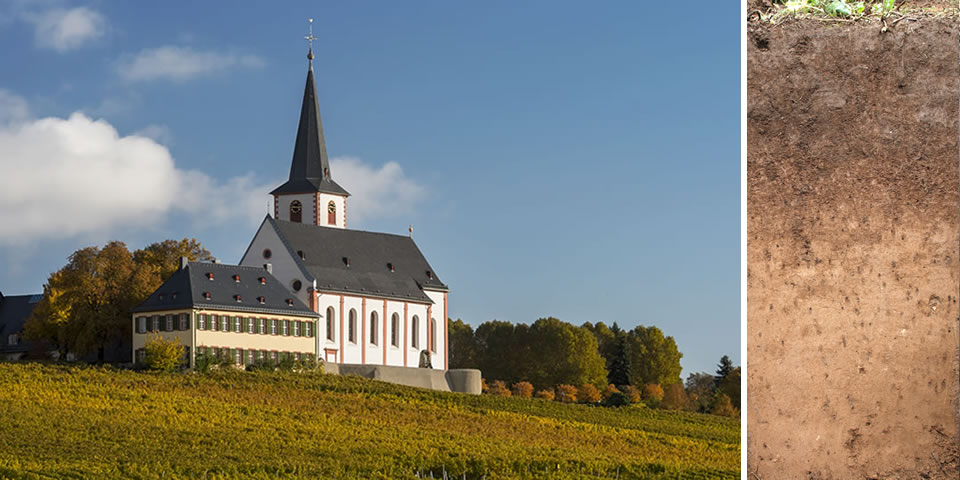 DOMDECHANEY
is at the foot of the barock church St. Peter and Paul, the landmark of Hochheim with its famous ceiling frescoes overlooking far beyond the countryside, and right below the baroque castle, the former summer residence of the cathedral chapter in Mainz, which is part of the wine estate today. The soil of the Domdechaney consists of heavy clay marl with limestone and minerals that can perfectly store water and nutrients even during dry years. The grapes ripen slowly until late October or even November; the overripe berries yield a sublime sweet Auslese and Beerenauslese. The Domdechaney Riesling is always lingering and its strong minerality displays a distinctive character. The wine often evolves after years and has a high aging potential.
Cultivation area: 2.3 ha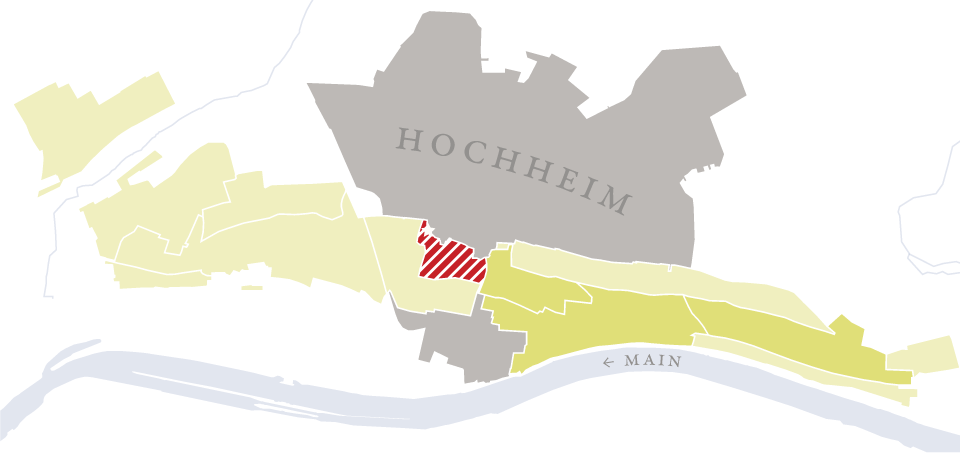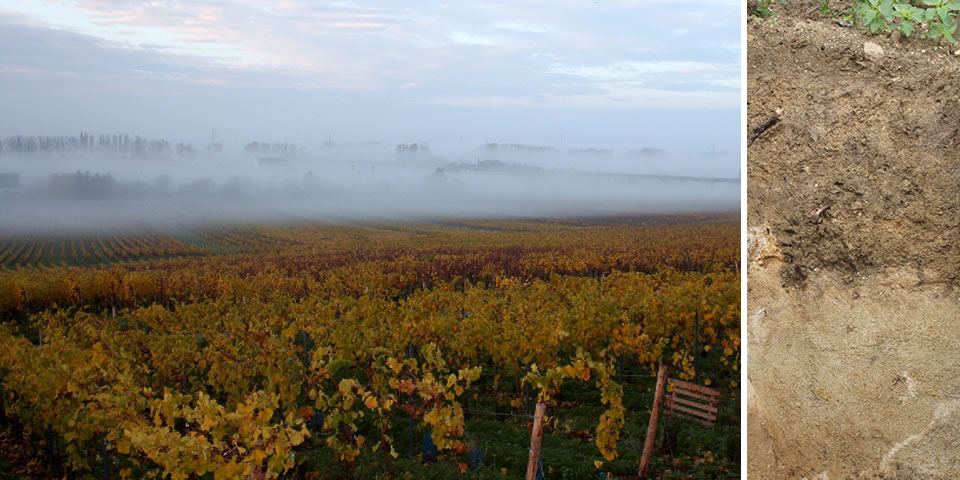 HOCHHEIMER HÖLLE
extends along the river terraces with their dliluvial sediments on tertiary limestone above the bank of the river Main. The spring horizon in the subsoil discharges water, providing the vineyards with good growth also during hot periods. The name Hölle is derived from the Old High German word halda (hill), signifying the notably warm climate protected by the slope and the water reflection of the River Main. The world's oldest written documentation of the grape variety Riesling originates from this site, dating back to the year 1435. The Riesling from the Hölle displays vigor and elegance along with mineral spice and well-balanced acidity, epitomizing the ideal type of the Rheingau Riesling.
Cultivation area: 3.4 ha